Napkin Class

W/Marsha
$35.00
Thursday, August 27th
1:00 pm- 5:00 pm
Make these 5 beautiful cards from napkins! You will learn the technique and have fun putting the cards together. They make wonderful cards to send or to give as a gift.
~~We will also make our own "glitter" background paper~~






---

Come join Marsha for one or both of these fun coloring classes. You can color the Cards with your Copic Markers or with any coloring medium you prefer! Note: Samples were colored using Copic Markers.
We are offering 2 classes, 2 times.
Join us for 1 or both!
Each class will feature 3 House Mouse cards.
What do I need to bring to class?
Your Copic Markers or any other coloring medium you prefer
Thick and thin foam tape or dots
Glossy Accents
Wink A Stella ~~ Clear
Your favorite adhesive (I will provide for your use a bottle of my favorite glue)
A pair of detail scissors.

---

Friday, August 28th

9:00 a.m. – noon

or

Friday, August 28th

6:00 p.m. – 9:00 p.m.






---

CLASS #2 $25.00


Friday, August 28th

1:30 p.m. – 5:00 p.m.

or

Saturday, August 29th

6:00 p.m. – 9:00 p.m.




---


Saturday, August 29th
$55.00
~~9:00 am – 5:00 pm
Love to color with Copic Markers ????? Want to fine tune your technique or learn how to use your Copic
or other alcohol based markers???? Then this is the class for YOU. This class is designed for the novice
or students with limited skills.
Your instructor will be Marsha Nichols. Marsha has held many Copic Workshops and continues
to receive rave reviews from the participants. She also holds both certifications currently
offered by Copic as well as several Copic workshops.
* In this workshop you will learn the basic strokes you need to know to start using your markers or improve your techniques. You will practice coloring techniques and receive additional practice sheets to take home to continue to work on your skills. *You will also receive a variety of images to color and additional copies for your use.
* As an added value ~~ you will receive reference materials on color theory, how-guides, and much more.
*This class is also about completing a coloring project using your Markers. You will color and create a 3-D Rose Trellis Card before you leave for the day!
At the end of the day, you will be saying~~~~~~
"YES, I CAN COLOR ANYTHING WITH MY COPIC MARKERS!"
As a bonus, each participant will receive the following included in your registration fee:
*3 Copic Markers .. A $24.00 value! If you already have any of the colors included in your registration fee, you can exchange them for another color.
*A discount on the purchase of additional markers on the day of the class.
*Lots of images ready to color.
*Practice sheets.
*3-D Rose Trellis Card kit.
Class Fee: $ 55.00 (due in full at time of registration).
Lunch: 30 minutes on your own. In the interest of time, we strongly recommend you bring your lunch with you. Optionally, you can place an order with a local restaurant that can deliver. If you elect this option, please place your order when
you arrive for the class. Our staff has menus available from which you can make your selection. Thank you.

What do I need to bring to class?
Copic Markers C3, R83, and G24; an Xacto Knife, a cutting
mat, small foam dots (such as Candi's), and a pair of detail scissors. We encourage you to bring any Copic Markers you own with you to class, so we can assist you with creating blending families from the markers you already own.

---

Copic Color-Along:

Whimsical Faces and Hair


Part 1 – Intermediate



Sunday, August 30th


~~12:30 pm – 7:00 pmDinner is on your own


We suggest you bring something with you. $55.00Come color! In this intense coloring technique class, learn how to approach coloring some of the most popular whimsical stamp images on the market. Starting with cute and simple and working our way up to the intermediate level of detailed faces and hair, you will walk through the process of coloring faces and hair. Five (5) images are provided for your personal use; as well as popular color combinations for both faces and hair. Since this is a technique class, we will not be making completed cards. Include in your register fee is 10 full-color, step-by-step, tutorials. The tutorials contain face and hair color samples along with detailed instructions on achieving the featured effects. These tutorials were created by 4 of the top designers with Imagination International -- the parent company of Copic in North America. This will allow you to continue fine tuning your skills even after the class. And if that is not enough, you will also receive multiple copies of each image.You will leave with the samples you have colored and detailed directions so you may continue to practice and refine your skills. You will also receive directions for many face and hair colors we will not complete in the class and examples by the top designers at Imagination International/Copic markers.Copic Color-Along: Whimsical Faces and Hair, Part 2 – Advanced is not included in this class. It is offered as a separate class. At the advanced class level we will concentrate on various ethnicities and building greater depth in our coloring as well as shading and so much more.Pre-Requisite: Completion of our Copic Basic Technique class. Have your mastered the fine art of flicking???? It is time to get your "flick" on as this is the primary stroke we will be using to color our hair images. Don't forget to practice your small circles for the face images.Please note: This class is not designed for students who have not completed the basic Copic techniques class.Student Class Supply List:*Pen/pencil to note on your images the Copic color combinations you used.*Craft mat****Please bring the following markers to this class:These are the colors we will be working with in the intermediate class. You will need these colors, as well as others for the advanced class.*B04/B24/B41/B95*BV00/BV20*E0000/E000/E00/E01E17/E21/E23/E25/E27/E31/E33/E34/
E35/E42/E43/E44/E47/E49/E50/E53/E93*Y28
*YR18/YR24
*W4
---
SIMPLY SAMMI'S CLEVERNESS
$24.00
Tuesday, Sept. 1st


1-3 pm
Saturday, Sept. 12th


10am-12 pm

Once again have you playing with Ranger Distress Inks. You'll apply several colors, and through their magic of reacting with water, then it will be INK OFF. What is left are beautiful backgrounds. Then the fun begins!! Watch your finishing touch bring out the full beauty.

BASIC STAMPING
9:30- 11:30
FRIDAY
September 18th
9:00 - 11:00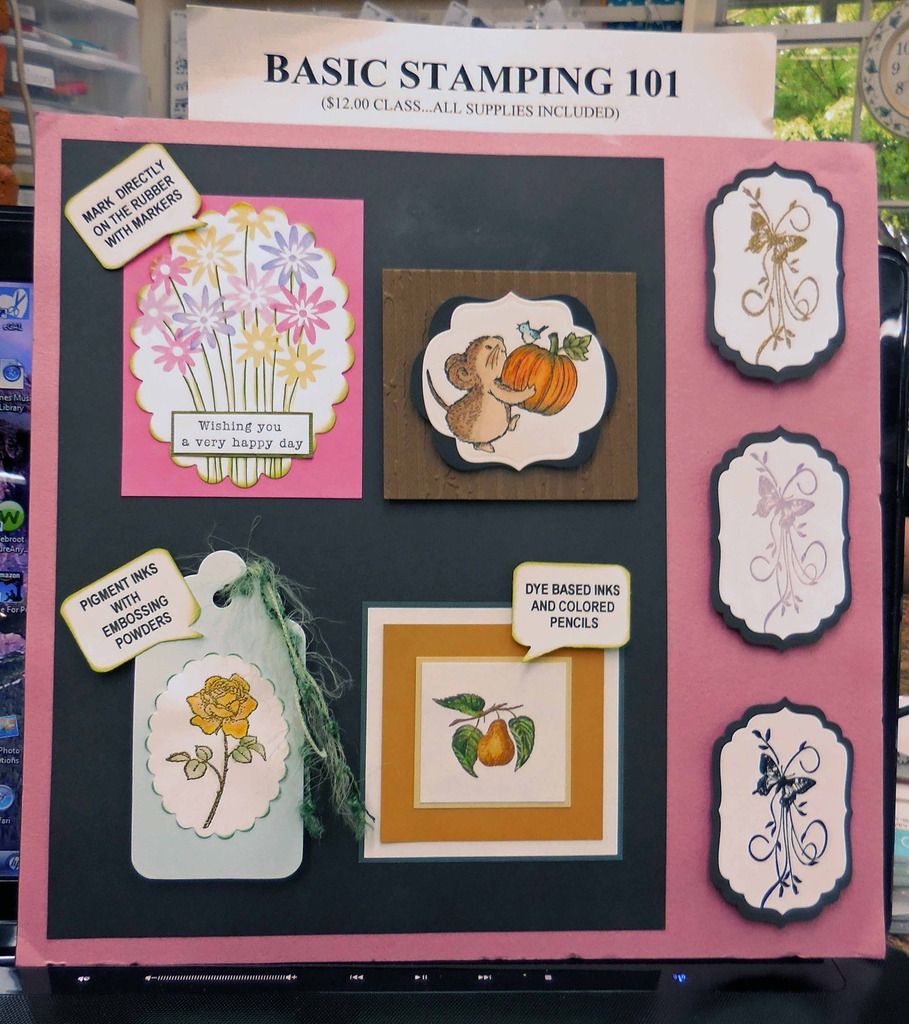 In this class you will learn 3 stamping techniques and you will get
the opportunity to use a die cutting machine to make an adorable
gift card. The first stamping technique involves marking directly on
the rubber using dye based markers. For the second technique you
will stamp with dye based ink pads and color in with colored pencils
and chalks. You will be using gold, black,and clear embossing powder
for the third technique. You will melt the powders with a heat gun and
color the image in with markers. I will also be teaching you how to
watercolor using markers. The final technique involves the use of a
die cutting machine. You will cut two dies and use the same machine
to emboss cardstock using an embossing folder.
Cost $12.00. All supplies will be provided.
TIM HOLTZ'S
O' THOSE CRAZY BIRDS!!!
SIMPLY SAMMI'S CARD CLEVERNESS
Saturday, Sept. 5th


1:00 - 3:00


Tuesday, Sept. 8th


1:00 - 3:00
$24.00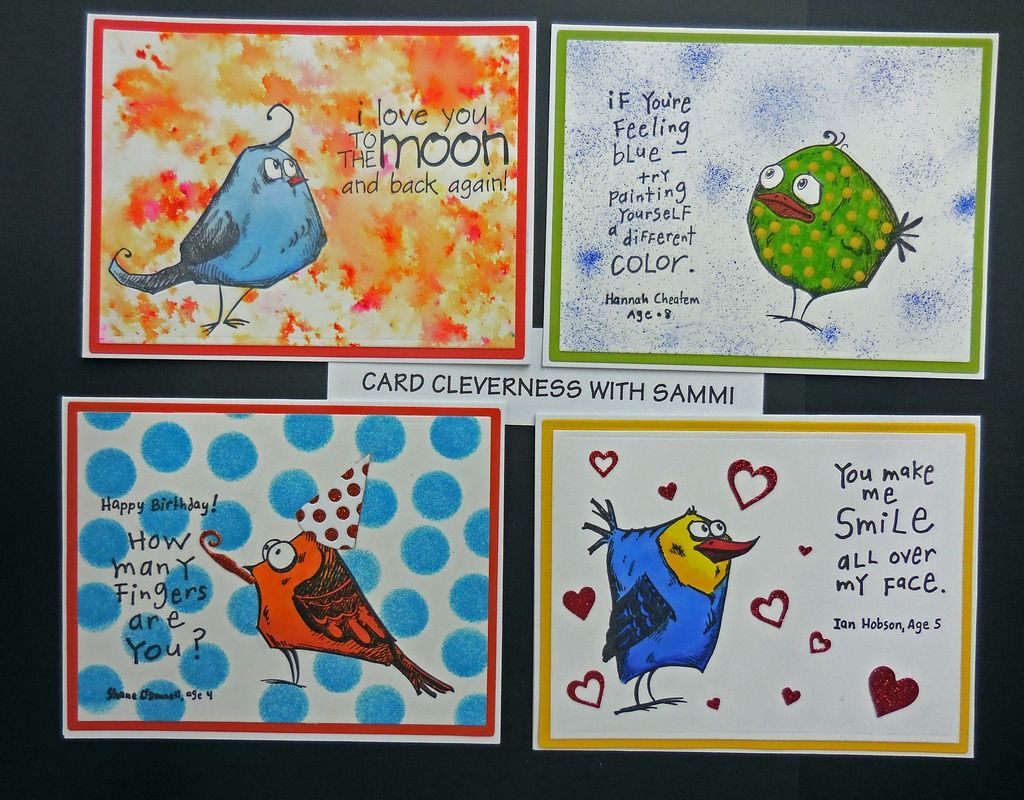 Tim Holtz Crazy Birds Stamps with a Sammi Twist. Sammi has just gone to the birdies. This class sports four fun, brightly colored cards. three will use a new masking product - Soooo GET READY to learn the art of masking. Additionally, you will BLAST on color with the new KEN OLIVER COLOR BURST product. Note: if you wish to use Copic colors on your birds, contact the Cottage for the list. You may bring any coloring medium of your choice. Contact the Cottage to reserve your spot.

---
Elizabeth Craft /Distress Marker
Card Class

w/Salli!!


Make these three beautiful cards using Elizabeth Craft products (her stickers and shimmer sheets). The stickers (which are the black "outlines" above create a reservoir for you to paint in). In addition, try something new if you haven't already -Distress Markers!!! This is a wonderful medium. Learn to watercolor with them! Also, learn how to texturize the shimmer sheets using embossing folders to add dimension to your cards and match your theme. They simulate metal and create a beautiful accompaniment to your cards. Call the Cottage to reserve your spot.

Supplies to Bring

: Scissors, adhesive, pop dots, cutter, and a watercolor brush (I use the Tim Holtz Detail Aqua Brush). Class fee $24
---
---
---
"THREE-TIMES THE DESIGN"
AUGUST'S CARD KIT
---
---
--------------------------------------
LOOK -
8 X 8 WEDDING ALBUM
SINGLE 1-PAGE LAYOUT
BUY NOW!!

$199.00
The new Sizzix Big Shot Plus die-cutting machine redefines die-cutting with
a 9" wide opening to perfectly cut and emboss many different 8 1⁄2" x 11"
materials. Its larger working area easily accommodates A4 size embossing
folders and larger format cards for added creativity.
* Compatible with all Sizzix dies and embossing folders up to 9" wide
* Measures 15 3⁄4" x 11 3⁄4" x 7 1⁄2"
* Perfectly cuts and embosses many different 8 1⁄2" x 11" materials
* Easily accommodates larger format cards
* Includes a platform system and a pair of Cutting Pads