ART IMPRESSIONS
CHEERY LYNN'S
taylored expressions
GREAT IMPRESSION'S
IMPRESSION OBSESSIONS'S
orders have arrived!

-80% OFF
THE BARGAIN STORE

--------------------------------------
SIMPLY SAMMI'S CARD CLEVERNESS
PENNY BLACK'S 'INSPIRE' BOARD
(WITH A SAMMI TWIST)
JUST ADDED


THIS WEEK!


TUES., MAY 26th, 1:00-3:00 P.M.


OR



TUES., JUNE 9th, 1:00-3:00 P.M.
TUES., JUNE 23rd, 1:00-3:00 P.M.
SAT., JUNE 27th, 1:00-3:00 P.M.


$24.00
Make these four beautiful cards inspired by Penny Black dies/stamps with a Sammi twist. Sammi has 'softened' the look by changing out the look for softer tones. Same Penny Black dies and stamps!!!! You can use these cards for any occasion--just change out the sentiments. You'll learn a variety of techniques. Come and learn something new. These cards are stunning. They sparkle and shine.


Please bring: scissors, glue, cutter, and tweezers. Call to reserve your spot. Classes fill up fast!
---
(Dot has added another class-- due to popular demand)!!!
SATURDAY, MAY 30th, 2015
1:00-3:00 p.m.
$24.00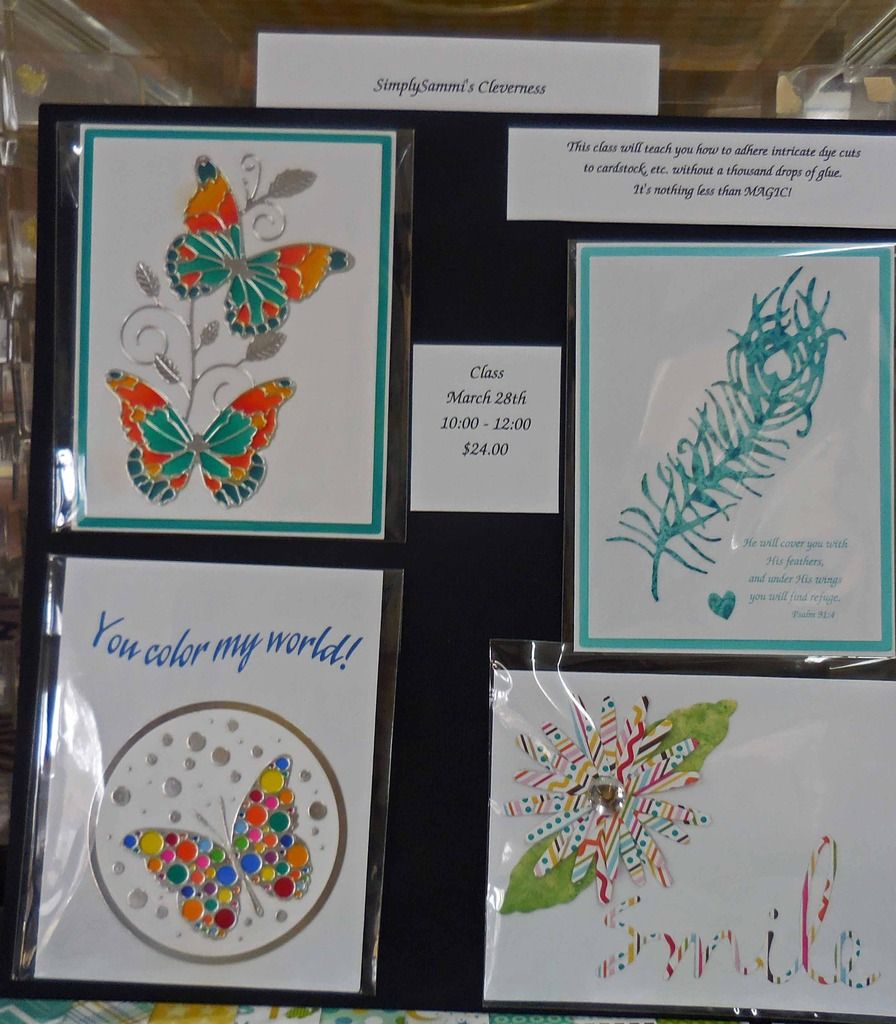 This class
will teach you a new technique to adhere very intricate die cuts to cardstock,
metallics, watercolor paper, etc.. without using a thousand drops of glue!!! The seal is so complete and tight you can use
copic pens with no underbleed. I guarantee you will be amazed by the simplicity
of the technique, but also thrilled by it's many possible uses.
For the

WORD CARD:
you will be able to choose Smile, Love, Hello or Happy Birthday.
For the BUTTERFLIES CARD:
Please bring what you use to color your cards. I will have
paper suitable for copics and also water color (i.e. Tombo Markers, etc.) This will not be a class
including instructions for coloring.
The Feather card will be offered with a
choice of three sayings about feathers; and a choice of two colors: aqua or
purple.
The "You Color My World" will also be offered as "Happy Birthday."

PLEASE BRING BASIC TOOL KIT, INCLUDING ADHESIVES
& TWEEZERS


---
Simply Sammi's Card Cleverness

RANGER INKS SALT & SPLATTER

Saturday, June 6th - 1:00 - 3:00 P.M.
$24.00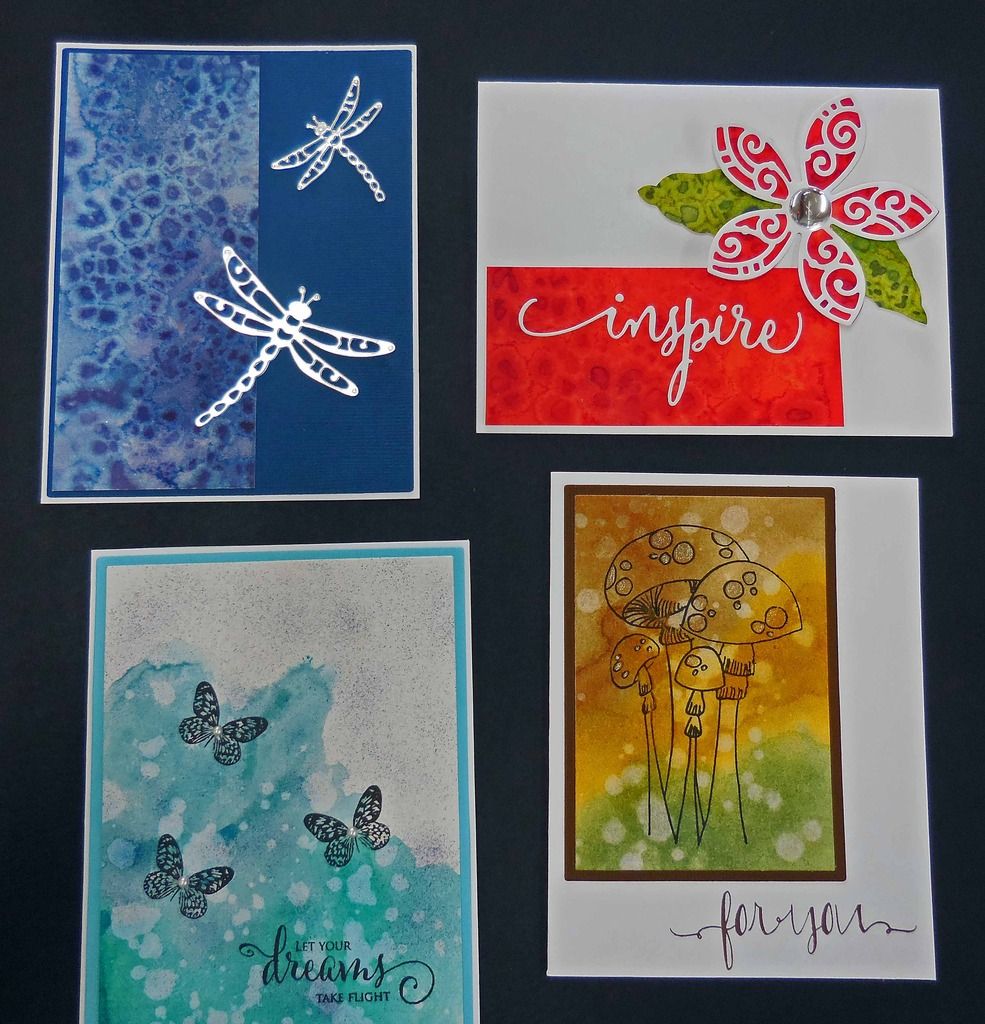 These four cards revisit an old technique using Ranger Distress Ink Refills, salt, and splatter. Learn to create this beautiful watercolor background using a variety of colors. AND of course, one of my cards will include my secret way to adhere intricate dies to your cardstock without them pulling up--even when using a water color method!!
Please bring: scissors, glue, cutter, and tweezers. Call to reserve your spot. Classes fill up fast!
--------------------------------------------------------------------------
ANGELA, IS

$29.00
each
These classes are very technique driven, and do not easily lend themselves to kits.
Students should bring: scissors, favorite adhesive and craft sheet, if you have one.
Friday, June 12th
9:00 - 11:00
Memory Box
To "Die" For Cards
Join Memory Box Design Team member, Angela, in creating four cards featuring the latest and greatest products from Memory Box. Angela will share tips and techniques for getting precise cuts with the dies, as well as methods for layering, coloring and adhering. You'll leave with four great cards and a new appreciation for the versatility of Memory Box dies!
Memory Box
Wondering what to do with all the stencils from Memory Box? Let Angela show you several ways to color, layer, embellish and enhance your cards using stencils. We'll use both the "positive" and "negative" surfaces of the stencils to create magical backgrounds as we create 5 cards. You won't want to miss this class!
3:00 - 5:00
Memory Box

Post & Stitches Cards
"Stitched" cards are the rage! Join Angela to create four cards featuring several techniques for achieving a classic stitched look. We'll use the latest dies from Memory Box as well as other tips and tricks to make 4 quick and easy cards that are sure to impress!
Saturday, June 13th
9:00 - 11:00
Fun with Gelli Printing


Interested in finding out more about how to do mixed media and collage with your cards? Come explore the magic of Gelli Printing! You'll use Memory Box stencils and Gelli Plates to create your very own patterned paper full of texture to make three cards. You'll go home with several unique sheets, so the number of cards you can make at home following the class is practically limitless! Be ready to "let yourself go" a little
bit and enjoy the artful journey! (Optional: bring a Gelli plate and brayer if you have one to save on sharing time).
12:30 - 2:30
Memory Box
Madness Cards
This class is a hodge-podge of fun! We'll create 4 unique cards featuring lots of different techniques and products as well as the newest Memory Box stamp collection. There's a little something for everyone in this relaxing workshop.
3:00 - 5:00
Memory Box
Wondering what to do with all the stencils from Memory Box? Let Angela show you several ways to color, layer, embellish and enhance your cards using stencils. We'll use both the "positive" and "negative" surfaces of the stencils to create magical backgrounds as we create 5 cards. You won't want to miss this class!
-----------------------------------
Class Kit: $40.00 (a $60 value)
Join me to make this beautiful Graphic 45 album--not only is it beautiful, but it is
so much fun to make!! Wouldn't some lucky person just love to receive this as a
gift-OR you could keep it for yourself!!!!

This is a technique-driven class. You will leave knowing how to create another
album of your choice, how to design and make lots of different styles of pockets
with various materials, tags, multi-layered pages, and so much more. In class, we
will finish the front cover, the interior covers, the tabbed dividers, and 9-10 pages.
The album is designed to be added to after the class.

You will receive the album, the tabbed dividers, lots of extra interior pages,
(in addition to the ones we will finish in class), the Artisan Style Graphic 45 paper
to complete the album as shown, ribbon, and embellishments (chipboard, metal,
etc.).

As always, we will precut papers for you, but you will make the album yours by
selecting your own embellishments.
BRING TO CLASS:
*Yes Glue or Super Tacky Glue (Note: The Yes Glue was a little easier to work with when applying
the paper to the album, but the Super Tacky work very well with the embellishments--either will
work).
*A Glue Brush
*Small Paper Cutter to Trim Items as Needed
*Glossy Accents
*Scor Tape or Red Line Tape (1/4")
*Foam Adhesives
*Detail Scissors
*Basic Tool Kit
Registration Fee $30.00 & Kit is $40.00 (Additional kits can be purchased in
advance)
Call the Cottage no later 6/12/15 in order for us to make the kits up timely!!!
Lunch: 30 minutes on your own. Note: We strongly recommend you bring your own lunch/beverage. This will give you more
time to work on your album.
---
We will not be making cards, we will be coloring, coloring, coloring (and did I mention coloring?) ….. aaahhhhhh, such happiness ?.
This is an intense coloring class. I will be there to guide you through your coloring
issues, address your special concerns, and questions. I will be available to work with
you one-on-one to achieve the results you want.
I have selected some special designs for your coloring pleasure …or you can bring
anything you would like to work on. If you bring images, please bring 7 stamped or
scanned images to share with everyone or send to me in advance of the class and I
will have them available for everyone. You will also receive some of my favorite
coloring combos --- ones not previous used in a class.
Can't come on time or stay the whole time of the class? Don't worry. This is a very
relaxed event. Come when you can and stay as long as you can. You can always take
your images home and work on them and we can review them at the next class.
What do I need to bring to class? Any special image you want to work or get help with,
your Copic Markers; and if you have them, your Copic Multiliners and Spica Pens. You
may want to bring a snack as well. Please refrain from wearing perfumes. Thank you.
YOU MUST HAVE TAKEN COPIC 101 TO COME TO THIS CLASS.
Students must provide their own pens. I will not have pens available for the students to use
---
COPIC 101
TECHINQUE WORKSHOP $54.00
SAT., JUNE 20TH - 9:00-5:00 P.M.
1/2 HOUR BREAK FOR LUNCH
"YES, YOU CAN Love to color with Copic Markers ????? Want to fine
tune your technique or learn how to use your Copic or other alcohol
based markers???? Then this is the class for YOU. Join us for this AMAZING COPIC WORKSHOP. This class is designed for the novice
or students with limited skills.
Your instructor will be Marsha Nichols. Marsha has held many Copic Workshops and continues to receive rave reviews from the
participants. She also holds both certifications currently offered by
Copic. In this workshop you will learn everything you need to know
to start using your markers or improve your techniques. You will
practice the coloring techniques and receive additional practice
sheets to take home to continue to work on your skills. You will also receive a variety of images to color and additional copies for your use. This class is also about completing a coloring project using your
Markers. You will color and create a 3-D Rose Trellis Cards before you leave for the day! At the end of the day, you will be saying~~~~~~
"YES, I CAN COLOR ANYTHING WITH MY COPIC MARKERS!" As a
bonus, each participant will receive the following included in your registration fee: * 3 Copic Markers. If you already have any of the
colors included in your registration fee, you can exchange them for another color. * A discount on the purchase of additional markers on
the day of the class. Buy 6 get 1 FREE * Lots of images ready to color.
* Practice sheets. Lunch is on your own. You may bring your lunch
with you.

What do I need to bring to class? Your Copic Markers (if you own
them), an Xacto Knife, a cutting mat (i.e. self-healing mat), a pair of
detail scissors, and foam dots.
---
Do you desire to improve your Copic skills to color beautiful flowers? If so,
you will enjoy this class. This class is designed as a continuing education
course and does not have the intensity of a more in depth course. You will
learn a variety of coloring techniques allowing you to create beautiful and
elegant flowers. We will begin with simple flowers and move to more complex
flowers during the course of this Workshop. We will be coloring a simple
basic flower, violets, zinnias, violas, cherry blossoms, sunflowers, lilies, and
roses. Pencil artist are also welcome, the techniques are the same for the
application of color.
Your registration fee includes: A copy of the Copic Foundation Series by
Marianne Walker, Coloring Flower with Copic Markers. A $10 value!
Additional practice sheets for your personal use.
PRE-REQUISITE: COPIC 101
Copic Markers we will be using in class:
E04, 31, 34, 39
Y00, 02,08,11,13,15,17,19,35
YG00, 05,11,13,17,41,45,53
G12,14,24,28,40,43 & 46
G00,04,41
BV11,13,17
V04,05,12,17,20,22,25
R01, 43, 46,59,81,85,89
RV13 & 69
YR02, 04, 09, 14, 18, 21, 23, 61, 65, 68
00 (Blender)


These are questions people have been asking about the Flower Copic coloring class:
Yes, you must have taken Copic 101 to take this class.
This is not a coloring class. It is a technique driven class -- we will not be completing a project.
You do NOT have to have every color listed on the announcement. These are the colors used in the book
we

will be using and the ones I will be using to demonstrate some techniques.
You should be able to achieve the techniques used in the class with 3-5 colors in a blending family. That
being said, you will definitely need a blending family of greens. But you could color all the flowers in this workshop by simply choosing one color blending family in a flower color of your choice..... such as a group of yellows ... or reds ... or
oranges ... or any other color(s) you choose.
If you own Copics you should be able to easily come up with at least one flower color bending family, if not 2...
with Cindy

Sat., June 27, 9:30 - 11:30
In this class you will learn 3 stamping techniques and you will get
the opportunity to use a die cutting machine to make an adorable
gift card. The first stamping technique involves marking directly on
the rubber using dye based markers. For the second technique you
will stamp with dye based ink pads and color in with colored pencils
and chalks. You will be using gold, black,and clear embossing powder
for the third technique. You will melt the powders with a heat gun and
color the image in with markers. I will also be teaching you how to
watercolor using markers. The final technique involves the use of a
die cutting machine. You will cut two dies and use the same machine
to emboss cardstock using an embossing folder.
Cost $12.00. All supplies will be provided.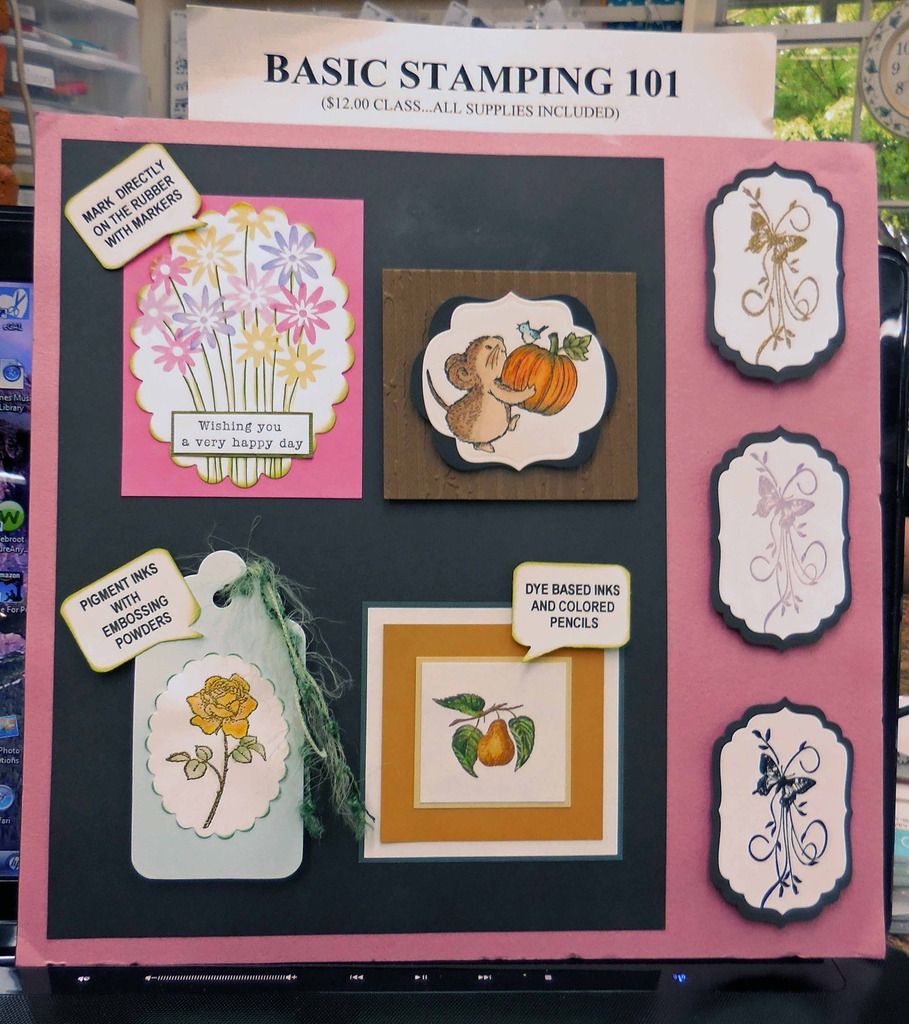 ---------------------------------------------------------------------------------------------------
--------------------------------
RANGER DYLUSION PAINTS ARE IN & \OUT AND ARE ON ORDER, LET US KNOW IF WHEN THEY COME IN IF YOU WANT US TO SAVE SOME FOR YOU!
MINI DISTRESS INKS & STORAGE TINS ARE IN!
-------------------------------------
IMPRESSION OBSSESSIONS

APRIL'S DIES ARE IN!!
Aren't these beautiful!! They are all

NEW

dies.
Call or stop in to get yours!
--------------------------------------------------------------------------
Three Times the Design Presents:
This is an absolutely stunning board this month from Linel. Call the Cottage to reserve yours today $31.00
---------------------------------------------------
GREAT IMPRESSIONS BOARD
WOW!!
3 NEW
PENNY BLACK BOARDS!!
As you may (or may not) know, the Penny Black Board Program provides complete instructions. For each board, you can use the same product for all four cards. If you purchase the stamps you will receive the instructions FREE. Needless to say, all 3 boards are absolutely stunning.
SPARKLE BOARD
This board is BREATH TAKING!!! The blues and yellows are just beautiful.
GENTLE WHISPER BOARD

This board just 'sings' spring! All those beautiful purples, violets, and greens!! The stamps, dies and stencils can be used for any occasion.



INSPIRE BOARD




Sprays, dies, and stencils make this board up. Just beautiful. Check out the Inspire die. It also comes with with the word 'create' as well. Chalks are also used on this board as well. Love it.
---
Northwoods Board
"SIMPLY SAMMI'S CLEVERNESS!!!"
w/Dot $24
Ranger Inks Salt & Splatter
Call if interested in taking this class
Paper Sweeties
Debbie is coming again (YEAH!!):
May 15-16,
July 24-25,
Aug 28-29, Oct.9-10, Nov 6-7,
SAVE THOSE DATES
---
---
l


Look how cute these are!!! A Spring/Get Well board. You will love it. Give us a call to pull you any/all of them!!
---
MARCH'S 3 TIMES THE DESIGN BOARD IS IN! You have to see this to appreciate how pretty it is.

JUST DARLING!!
Call to have us reserve a kit for you $31.00
-----------------
--
----------------
PENNY BLACK'S BOARDS
Penny Black Technique Boards
We've got the stamps & dies!!!! Along with that, we've got the directions for the techniques. You should see these boards up close and personal. They are B E A U T I F U L. Stop by the Cottage and see what the buzz is all about. You won't be able to resist!!
JANUARY'S 3 X THE DESIGNS BOARD
-----------------------------------------
MON. 10:00 - 3:00
TUES., WED., THURS. & FRI. 10:00 - 5:30
SATURDAY 10:00 - 4:00
OUR MONTHLY CLASSES ARE:
2nd TUESDAY:
6:00 - 8:00 BASIC GREY LAYOUT CLASS
3rd FRIDAY:
11:00 - 12:00 MIDNIGHT CINDERELLA CROP!
ALWAYS DOUBLE CHECK FOR CHANGE BECAUSE OF SPECIAL EVENTS, ETC.
CLICK ON PICTURE ABOVE TO SEE MORE MAGNOLIA SAMPLES
3-D DIECUTS CLICK ON PICTURE ABOVE TO SEE MORE PICTURES OF 3-D'S
ABOVE PAGES FROM
SCRAPBOOK-101