VALENTINE & PRESIDENT'S DAYS SALE!!
FEB.12, 13 & 15,2016
FRI., SAT. & MON.


Buy 1 get 1 FREE


Spellbinders & Sizzix
Dies & Embossing Folders
(Very small selection excluded)
---
THE BARGAIN STORE
-60% OFF

WOODEN STAMPS
BUY 1 GET 1 FREE!!!
---
Don't forget
ENCHANTED COTTAGE'S
GIFT CERTIFICATES

FOR VALENTINE'S DAY
"THE GIFT THAT KEEPS ON GIVING!"
HANDMADE CARDS
---
NORTHWOOD'S NEW MAGNIFICIENT MONARCH BUTTERFLY BOARD
CALL THE STORE TO PLACE YOUR ORDER FOR STAMPS YOU WANT!!
---
GREAT IMPRESSIONS
2016 VALENTINE
BOARD
Alcohol Ink Landscaping Class
w/Salli $28

SAT. FEB. 27TH
11:00 - 1:30 p.m.
ADDED DATES:


FRI., FEB. 26TH
11:00-1:30
OR


FRI., MAR. 4TH
Do you really want to try something new using a product that's been around for awhile? But in a way that you've probably never tried before? Alcohol Inks. Get them off the shelf and give them a new purpose! This is absolutely too much fun!!! These cards are really mini-paintings. They can be used for any occasion. Believe it or not, no brushes are used. No two are ever alike. They are 'painted' on Yupo paper which is a plastic 'paper' material containing no wood product. You can create skies that look like the sun or moon peeking through the clouds looking almost heavenly. Create winter or summer scenes by changing the colors. You can even create an ocean scene! You can't believe what we will use to manipulate the ink! No experience needed. Try something new. It's Zen-like. You'll become addicted.
Note

: We will not actually be making cards. You will be making the images. Since you will be using a spectrum of colors, it is impossible to ascertain what cardstock to provide. Depending on the size you cut your Yupo paper, you should have enough for four or five cards when finished.
Call to reserve your spot. Class size will be limited.
Supplies

: Paper Cutter & Paper Towels.

Make sure you wear 'old clothes'

. Alcohol ink will stain. I will provide all the supplies you will need to make the images.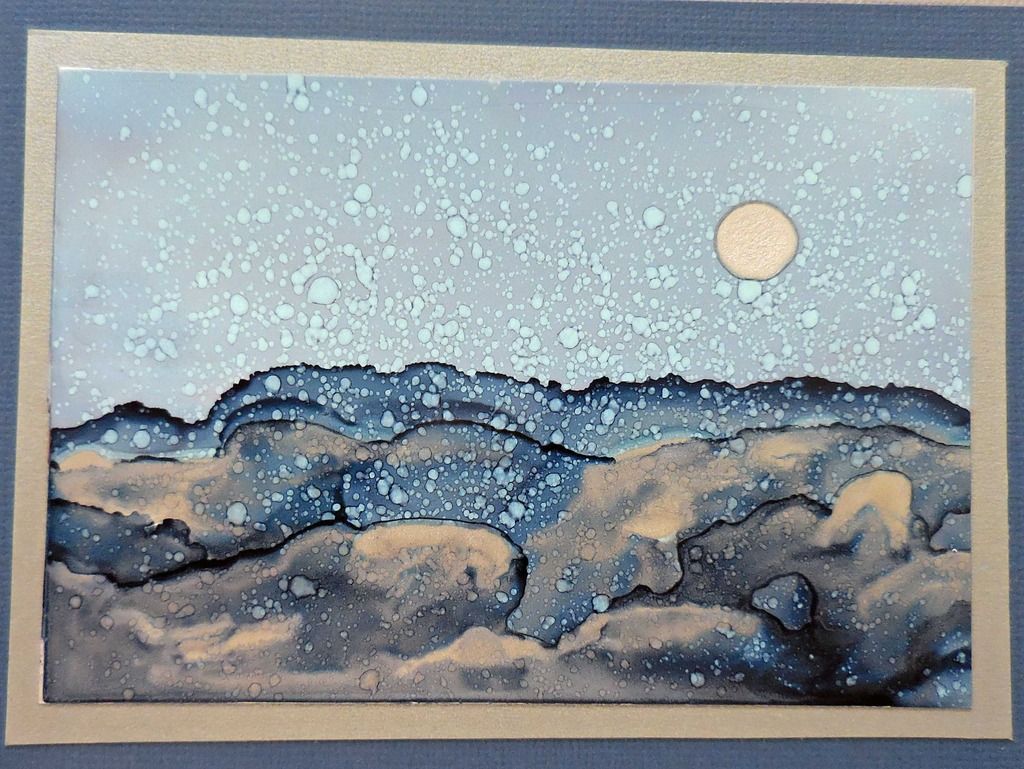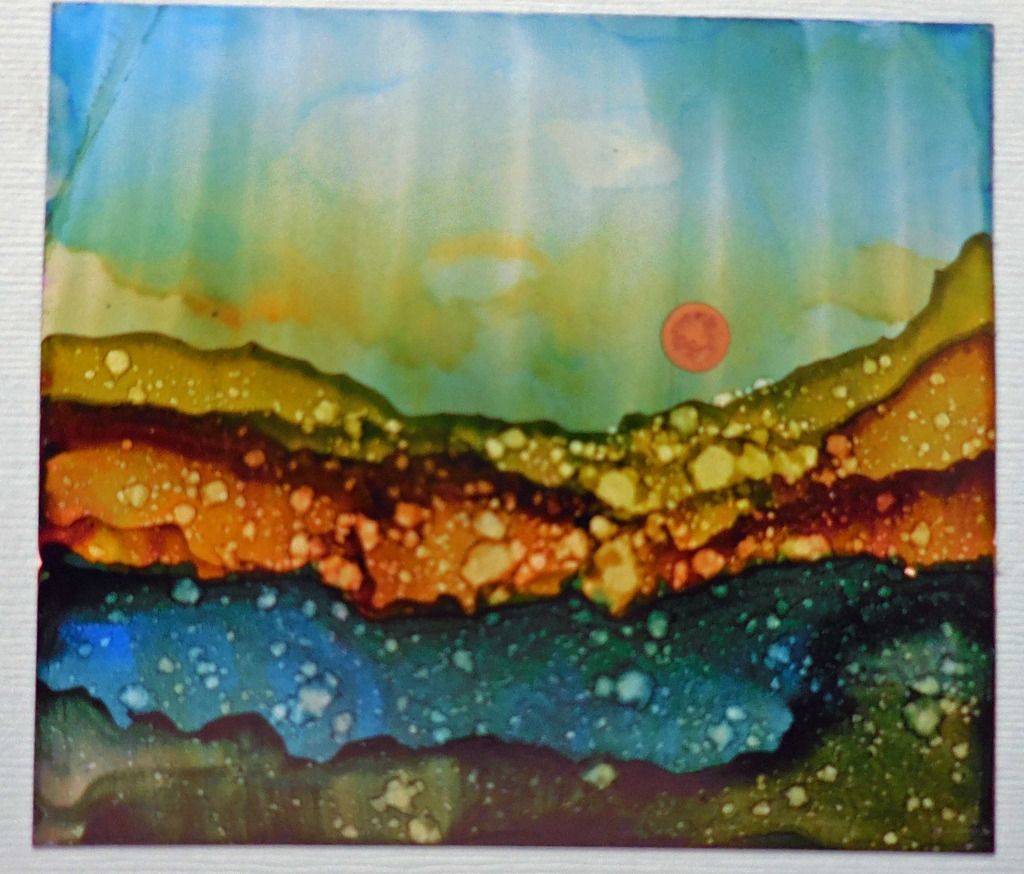 ---
COPIC LEVEL-1
w/Stacie
$36.00
FRI., FEB. 12th
10:00-1:00 p.m.
or
Fri., March 11th (

added date

)
10:00 - 1:00 p.m.
Ever wanted to learn how to color with Copic Alcohol markers? Want a marker that actually blends like paint? How do you use them? How do they make all those beautiful cards in the shop? Do you just want to try something new?
Stacie is a certified Copic instructor. If you've been to the shop, I'm sure you've seen some of her beautiful work. Stacie is a life-long resident of Lewisville and has been 'coloring' using Copics for over 13 years. Even though she paints/colors using a variety of different mediums, Copics are her favorite. -- And it shows. In this class, you will color 5 images (flowers, leaves, and a butterfly) that will be card-worthy after taking this class. Learn the coding systems on the markers and how they work together; blending rules, types of markers, how to attain smooth coloring, tips, and troubleshooting techniques. Learn the correct paper to use and ink that works best with Copic Markers. You will learn the 'flicking technique' that is essential to Copic blending. 'Three-color blending 'will also be taught in this class. Stacie will assist you in choosing a color palette. You will receive a free color chart.

---
N E W
COPIC SKIN AND HAIR CLASS
w/STACIE
$36

SATURDAY, FEB. 13TH
10:00 - 12:30
TUES., FEB. 16TH
10:00 - 12:30
More information and pictures forthcoming.
Bring your Copic pens (skin and hair color preferences) to the class. If you do not own Copic pens, please call the shop for recommendations. For those of you who have struggled with skin tones (all skin tones) in getting them 'just so'-- this is the class for you. Skin tones that are smoothly shaded and blended --- that's what we want!!!! Hair color??? Never could get it right? Now you can.
If you've ever seen Stacie's Copic work, you know what I'm talking about. If you haven't, come into the shop--her work is absolutely stunning.
---
NORTHWOODS EASTER CARD CLASS
USING TOMBOW MARKERS
WITH STACIE
$28
FRI., FEB. 19TH
10:00 - 12:30
SAT., FEB. 20TH
10:00 - 12:30
TUES., FEB. 23RD
10:00 - 12:30


FRI., MAR. 4TH


10:00-12:30
Picture forthcoming. Make 3 beautiful Northwoods Easter Cards.
TOMBO MARKERS? You remember Tombo Markers? Come and look at the Northwoods boards in the shop and see the beautiful water-color effects you can get with these water-based markers. As you know, Northwoods Stamps and Tombo markers go together so well. Stacie will show how to get these effects with Northwoods new water color paper and Tombo markers. You will be able to create blended animals/scenes/skies with ease in no time. It is so much fun!
A list of Tombo Markers to bring will follow.
---
COMING

:
COPIC FLOWER CLASS
10:00 - 12:30
AND
NORTHWOODS MENS' CARDS
Using Tombow Markers
W/STACIE
$36
Tues., March 15th
10:00-12:30
Fri., March 18th
10:00-12:30
Sat., March 19th
10:00-12:30
More information/pictures forthcoming.
---
"PAPER SWEETIES"
TRUNK SHOW
SATURDAY, MARCH 5
11:00 - 4:00
CLASS W/Debbie
1:00 - 3:00
Class Description:
Join Debbie, Owner, Illustrator and Creative Designer from Paper Sweeties, for a fun card class full of inspiration and creativity! Have you ever wanted to learn how to make a sweet little shaker card, learn how to heat emboss or learn how to embellish your projects to add pops of sparkle and shine? Well, if so, then this class is for you! We will be making four bright and cheery cards that you will fall in love with! You'll learn all the steps that go into making a trendy shaker card. We will learn how to heat emboss on the second card. Our 3rd and 4th cards will show you how to 'use your scraps' by creating one card and then making a second card using the negative die cut from the first card. Lots of BLING in this class too!! Bring a friend to double your fun!
Class Length: 2 hours
Class Level: Beginning and/or Intermediate
Class Limit: 8
My cost per student: $28
Students need to bring: tape runner adhesive, double sided ¼" tape, coloring tools of choice, glue dots, chalk marker or white gel pen, paper scissors, ribbon scissors
---
---
THEY WENT FAST!!! Call to have yours held--We will need charge it as soon as they arrive, so have your credit card number handy. We can also mail it
to you or any happy recipient.
This will be the perfect VALENTINE gift to ask for or to give.
GET YOUR NAME ON THE LIST TO GET YOURS AS SOON AS THEY COME IN 2016

KEN OLIVER'S
"Best Ever"Craft Mats
ARE IN!!
$16.00(another perfect gift!)
Why would you want another craft mat? This one

doesn't curl up

, doesn't move when you are working on it (great when you are using your die cutting machine on it), will not stain (you can even throw it in the wash machine), will not get holes in it--the list goes on and on. Come in and check it out. Trust me, you want one!

---
---
---
---
---
PENNY BLACK CATALOGS
CLICK THE LINKS:
THEN CALL TO PLACE YOUR ORDER
PENNY BLACK
"WINTER ROMANCE"

DO NOT CLICK DOWNLOAD
Click the link

BELOW

to see the catalog
Click here to find out more.
PENNY BLAC
K
"LOVE ALWAYS"

DO NOT CLICK DOWNLOAD
Click the link

BELOW

to see the catalog
Click here to find out more.
PENNY BLACK
"ESPECIALLY FOR YOU"

DO NOT CLICK DOWNLOAD
Clink the link

BELOW

to see the catalog
Click here to find out more.