-10% OFF
Pre-orders until 4/23/16
NEW RELEASES OF
IMPRESSION OBSESSIONS
Sorry I'm unable to get pictures uploaded.
Catalogs are in the store
PENNY BLACK
NEW RELEASES
"SO SPECIAL 2016"
2016
copy & paste to get to catalog
http://pennyblackinc.com/catalogs/2016_Penny_Black_soSpecial_PB.pdf
Call to place your order
copy & paste to get to catalog
http://pennyblackinc.com/catalogs/2016_Penny_Black_sunshine_PB.pdf
MEMORY BOX
NEW RELEASES
SPRING 2016
copy & paste to get to catalog
http://www.memoryboxco.com/2016-Spring_c_135.html
Call to place your order
POPPY STAMP'S
NEW RELEASES
SPRING 20016
copy & paste to get to catalog
http://www.poppystamps.com/2016-Spring_c_77.html
Call to place your order
Using Penny Black Stamps and Dies, make these three beautiful cards to herald in the spring. You can use these cards for ANY occasion. These stamps show such detail, it's hard to believe. We will be using Memento Markers in this class. The results are stunning. We will literally be 'mixing' the color on the stamps to create a perfect blend. This is a fun process -- I'll also show you how to create a water-color effect as well!! Come join the fun!! Call the Cottage to reserve your spot.
Supplies

: Cutter, Adhesive of choice.
BACK BY POPULAR DEMAND!!!

Alcohol Ink Landscaping Class
w/Salli $28
JUST ADDED:


TUES.,APRIL 19th


10:00 - 12:30

THURS: APR. 21st

10:00-12:30
SATURDAY, APR. 23rd
10:00-12:30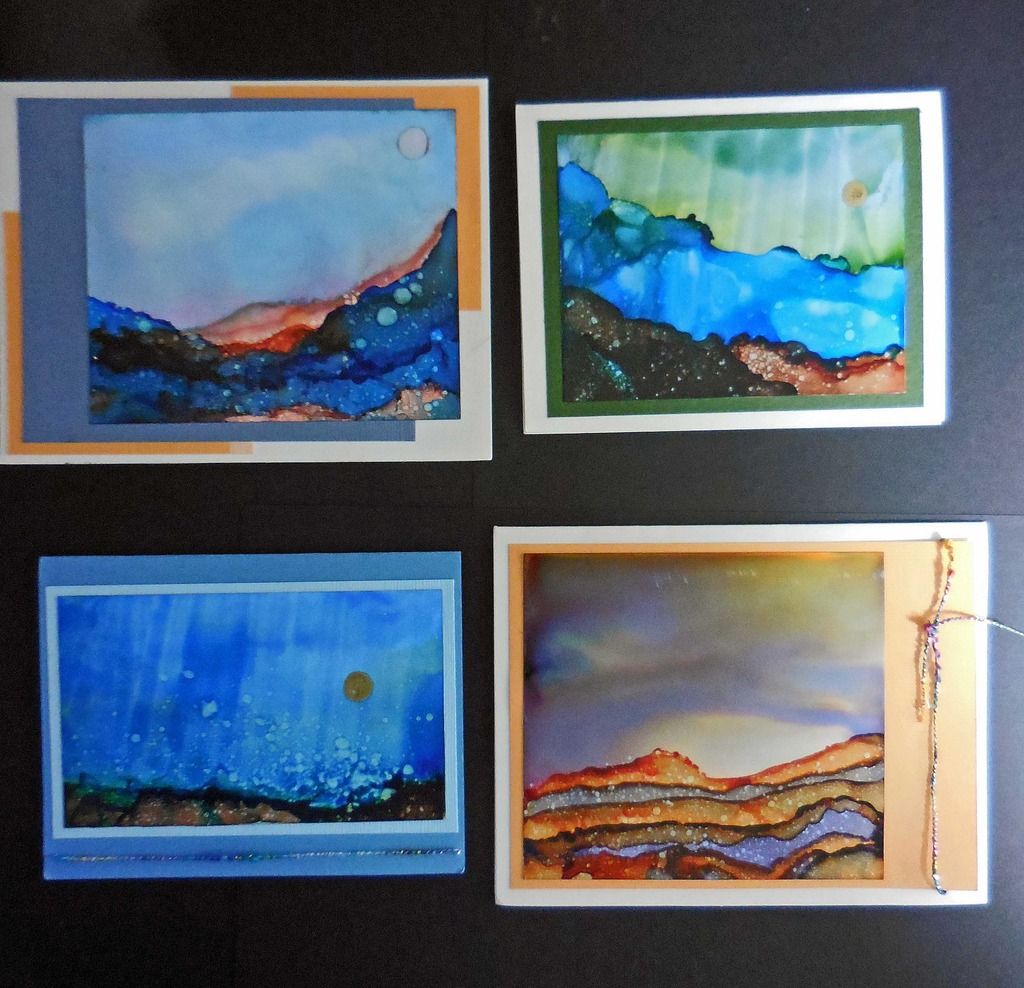 Do you really want to try something new using a product that's been around for awhile? But in a way that you've probably never tried before? Alcohol Inks. Get them off the shelf and give them a new purpose! This is absolutely too much fun!!! These cards are really mini-paintings. They can be used for any occasion. Believe it or not, no brushes are used. No two are ever alike. They are 'painted' on Yupo paper which is a plastic 'paper' material containing no wood product. You can create skies that look like the sun or moon peeking through the clouds looking almost heavenly. Create winter or summer scenes by changing the colors. You can even create an ocean scene! You can't believe what we will use to manipulate the ink! No experience needed. Try something new. It's Zen-like. You'll become addicted.
Note: We will not actually be making cards. You will be making the images. Since you will be using a spectrum of colors, it is impossible to ascertain what cardstock to provide. Depending on the size you cut your Yupo paper, you should have enough for four or five cards when finished.
Call to reserve your spot. Class size will be limited.
Supplies: Paper Cutter & Paper Towels. Make sure you wear 'old clothes'. Alcohol ink will stain. I will provide all the supplies you will need to make the images.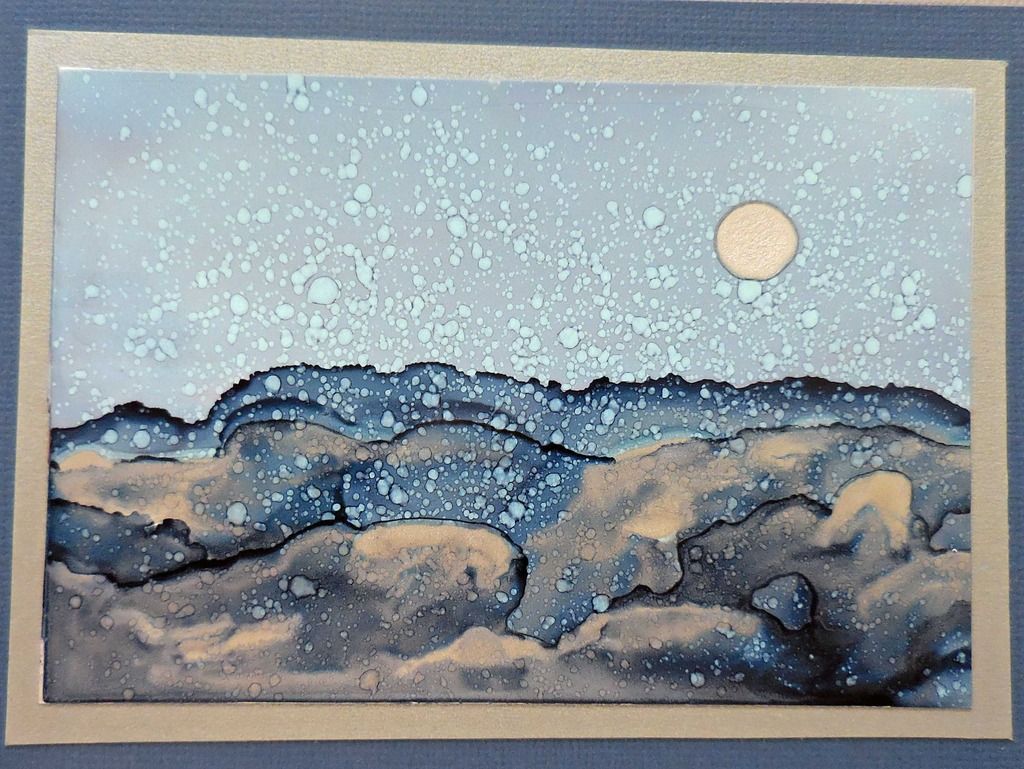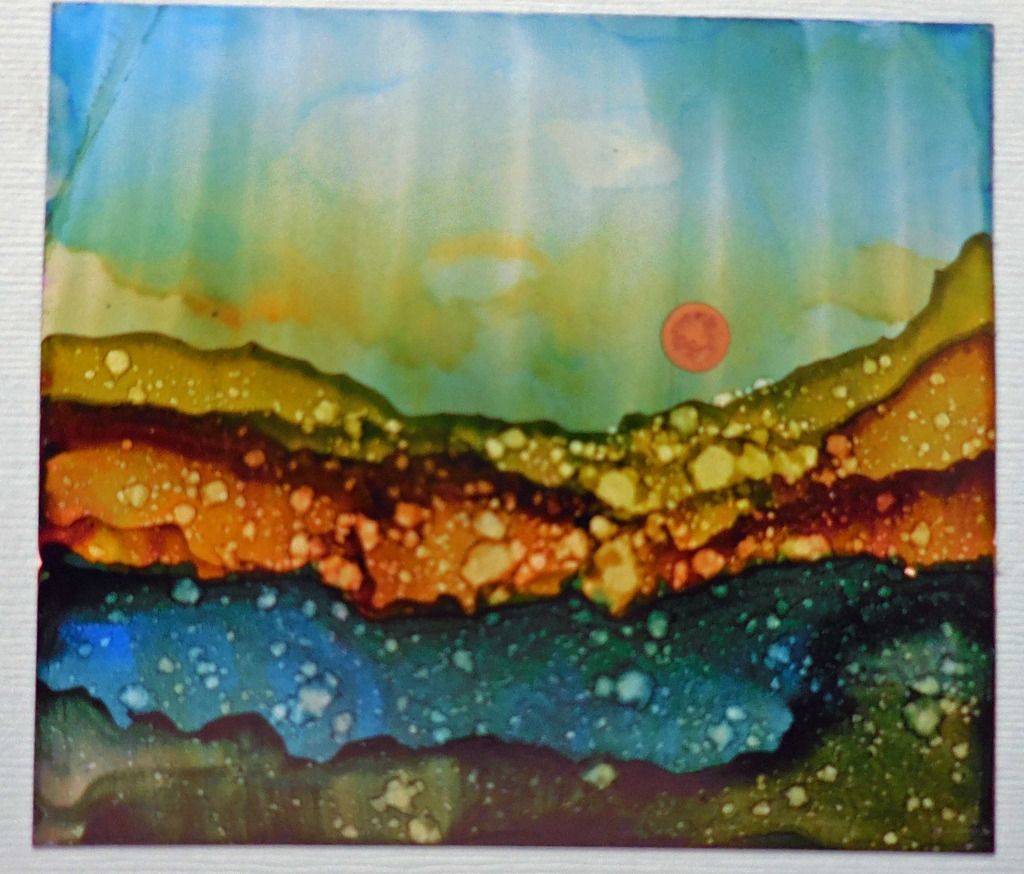 In this class you will learn 3 stamping techniques and you will get the opportunity to use a die cutting machine to make an adorable gift card. The first stamping technique involves marking directly on the rubber using dye based markers. For the second technique you will stamp with dye based ink pads and color in with colored pencils and chalks. You will be using gold, black,and clear embossing powder for the third technique. You will melt the powders with a heat gun and color the image in with markers. I will also be teaching you how to watercolor using markers. The final technique involves the use of a
die cutting machine. You will cut two dies and use the same machine to emboss cardstock using an embossing folder.
Cost $12.00. All supplies will be provided.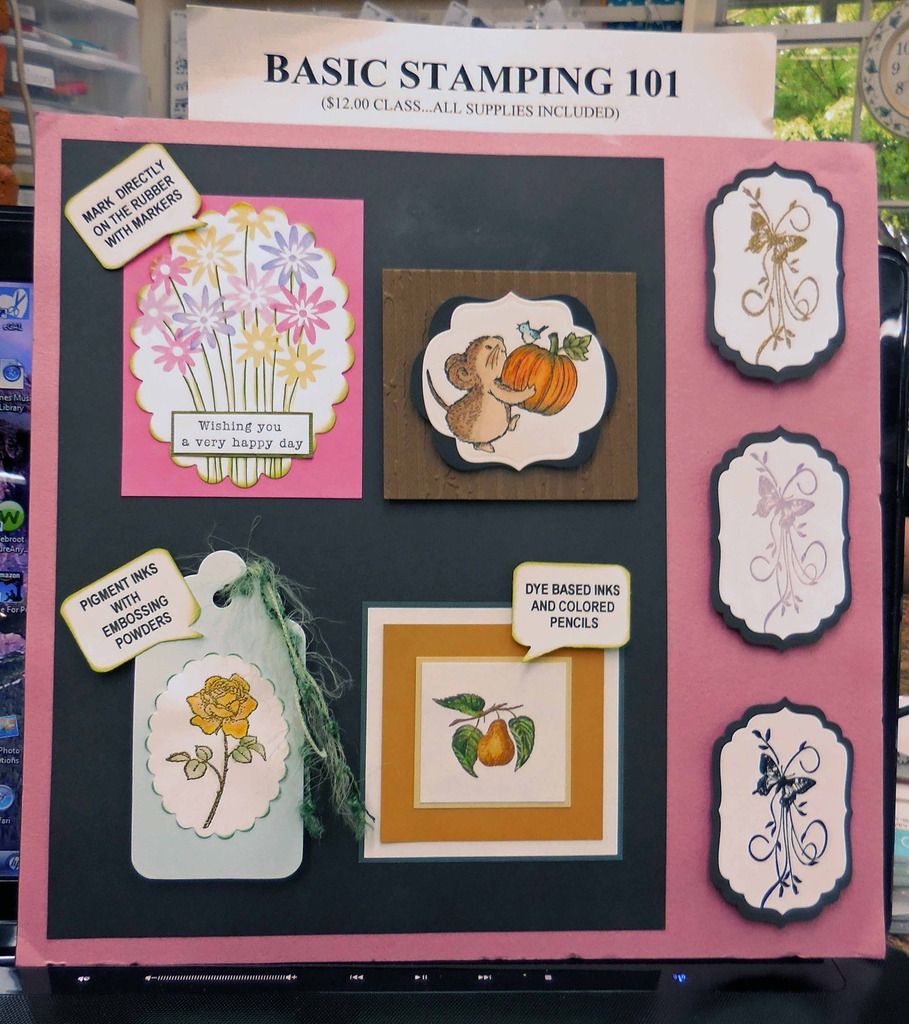 NORTHWOODS BUTTERFLY CLASS
WITH STACIE
$28
TOMBOWS (or any other water color medium)
Tues. April 26th
10:00-12:30
or
Fri., April 29th
10:00-10:30
Oh my, Stacie has out done herself!!! These are absolutely STUN-NING. The butterflies sparkle and shine -- the picture does not do it justice. Stacie added Wink Of Stella to these creatures and they are flying off the cards. These are Northwoods stamps and you need to come into the shop to see them. Call to reserve your spot.
Supplies: Adhesive of your choice, pop dots, cutter, Tombows or water color medium of your choice.

COMING IN MAY --

TIM HOLTZ
SMALL CRAZY BIRDS
WITH TOMBOWS
(or any water color medium)
w/Stacie
$28
TUES., MAY 10th
10:00-12:30
OR
FRI., MAY 13th
10:00-12:30
ALCOHOL INK LANDSCAPING II
USING METALLICS/MIXATIVES
w/Salli
$28
THURS., MAY 26th
10:00-12:30
OR
SAT., MAY 28th
10:00-12:30
Pictures forthcoming. This is a continuation of the Alcohol Landscaping Class. It not a requirement that you have taken the first class, however, it would probably be easier for you if you had. Working with metallics and mixatives (i.e. snow cap (white)) is a bit more challenging than regular alcohol inks). We will incorportate both Andirondak and Pinata mixatives in the skies and landscapes to create stunning looks. You'll also be 'carving' more with those highly technical tools you used in the first class. Oh, as an added bonus -- you'll also be doing a landscape on a tile!!!!!
This is too much fun!!! Call to reserve you spot!!!!
Supplies: Paper Towels, Paper Cutter, Wear Old Clothes

BIBLE-ART JOURNALING

We have had such a tremendous response to our Bible Journaling Classes!!! We hope you will join us. Here is just a sample of one of our Bibles. We are carrying a number of Bibles 'just right' for journaling and worship.
Because of the tremendous response, we are adding a morning class on the same 3rd Saturday of each month beginning in May.
.

3rd Saturday of each month
Facilitator: Dee Hanlon
Time:
10:00 - 12:30 (Starting in May)
or
1:30 pm - 4:00
Cost: $5.00
This workshop is for those interested in art journaling in your Bible as a form of worship to our Savior, the LORD of Lords and King of kings! Learn from my mistakes!! I'll share dos and don'ts I've learned from experimenting with these ultra-thin pages.
Over the months we will examine different techniques (inks, stamping, embossing, stencils, page prep to prevent bleed through, etc.) We will illustrate/document scripture, sermon notes, worship songs, word studies, and other topics-one per month, and one or two techniques per month. You do not have to be able to draw!
The focus is on our LORD, not how well you draw or your lettering skills. It's about reflecting on the Word in a creative way. No right or wrong. It may bleed, but so did He.
We will begin each session with a short devotion, prayer and some sharing time.
Materials to bring to our meeting
available at
The Enchanted Cottage
· Journaling Bible (2"or wider margins) Marilyn has some available at The Enchanted Cottage.

· A set of watercolor pencils- a set of 36 or more is good. You want a variety of shades in different colors.
· Waterbrush-small tip or a small paint brush and cup for water.
· Pencil with a good eraser
· Stazon Black Ink pad
· Clear Gesso (non-gritty like Dina Wakely)
Hake Brushes (we carry all sizes)

· Optional: small letter/word stickers- remember we only have 2" to work with.
· Optional: a favorite stamp or stencil
Questions:
Dee Hanlin: hanlind@nwresa.org
or Enchanted Cottage
6275 Shallowford Rd, Lewisville, NC 27023
(336) 945-5889
info@EnchantedCottageNC.com
If you haven't done so already, check out some of the pages people have done and posted on pinterest: search Bible Journaling
Pick a couple verses you might like to begin with.
-----------------------------------------------------------------------------------------------------------------
NEW STAMPENDOUS
"HOUSE MOUSE"
BOARD!!!!
Call the Cottage for us to set one aside for you!!!
We carry a wide variety of
ALCOHOL INKS
(Pinata and Adirondack)
Also YUPO paper.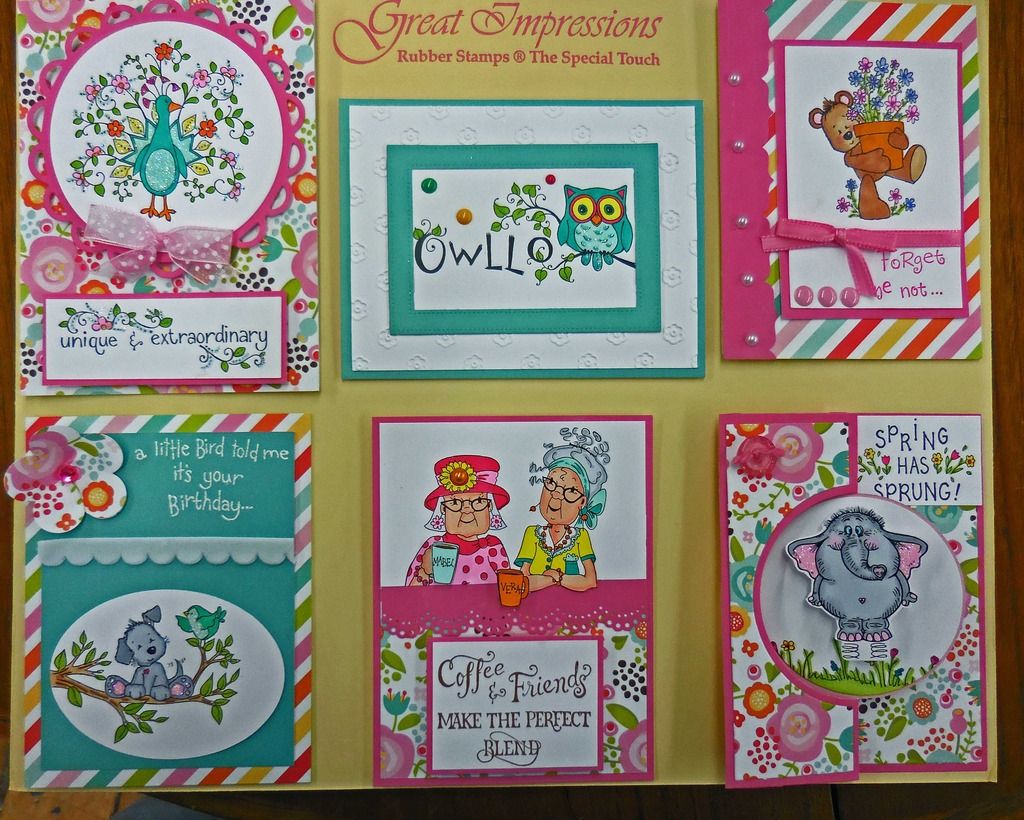 Call the Cottage for yours now!!
---
WE HAD A GREAT DAY

THANK YOU PAT & DAVE FOR COMING

RUBBERNECKER SAMPLE CARDS
CALL IF YOU WANT ANY OF THE
---
WE HAVE:
TIM HOLTZ'S

CRAZY CATS

STAMPS & DIES


3

NEW

GRAPHIC 45 PAPER COLLECTIONS


NEW

BO BUNNY "BELIEVE" COLLECTION



STACIE REALLY LIKES THESE & THEY ARE AT A GREAT PRICE!!
$20.00
---
ONE MORE NEW "BEAUTIFUL"
PENNY BLACK BOARD!!
STAMPS ARE IN
---

Misti stands for:
"MOST INCREDIBLE STAMP TOOL INVENTED"
THEY COME IN & GO OUT QUICKLY
PENNY BLACK CATALOGS
CLICK THE LINKS:
THEN CALL TO PLACE YOUR ORDER
PENNY BLACK
"WINTER ROMANCE"

DO NOT CLICK DOWNLOAD
Click the link

BELOW

to see the catalog
Click here to find out more.
PENNY BLAC
K
"LOVE ALWAYS"

DO NOT CLICK DOWNLOAD
Click the link

BELOW

to see the catalog
Click here to find out more.
PENNY BLACK
"ESPECIALLY FOR YOU"

DO NOT CLICK DOWNLOAD
Clink the link

BELOW

to see the catalog
Click here to find out more.